23/03/2023
Algeria Telecom launches new promotions for Ramadhan.
For the holy month of Ramadhan, Algeria Telecom launched new promotions for Idoom 4GLTE and personal customers Idoom (Adsl, Vdsl Fibre), starting from this Thursday March 30th 2023. First, there…
15/03/2023
Online payment: Algeria Telecom launches a new offer with extraordinary bonuses!
Algeria Telecom launches a new offer on electronic payments, starting from this Wednesday March 15th 2023. Henceforth, customers using the electronic payment to pay their telephone and internet subscriptions can…
14/03/2023
"Idoom Fibre": Algeria Telecom honours the 600,000th customer!
This Thursday, March 09TH , 2023, Algeria Telecom is proud to announce a new record of FTTH (Fiber To The Home) subscribers, with 600,000 customers. Algeria Telecom thus paid a…
13/03/2023
Algeria Telecom introduces the online FTTH application with geolocation
Algeria Telecom is honoured to announce that, starting from this Monday March 13th, 2023, customers will be able to apply online for the "Idoom Fibre" offer via the geolocation platform…
27/02/2023
Algeria Telecom launches the gamers' offer
Algeria Telecom is proud to launch the New "Idoom Fibre Gamers" Offer, designed for the personal customers and the new once, passionate about online games, this Monday February 27th ,2023.…
23/02/2023
Algeria Telecom inaugurates a new Data Center
Algeria Telecom is extremely proud announcing the inauguration of its new DATA CENTER, this Thursday February 23rd 2023, in Constantine. This project was achieved entirely by Algeria Telecom's teams, a…
15/02/2023
Algeria Telecom's Idoom Days: The Idoom Fibre package at 0 DA
Algeria Telecom launches the "Idoom Days" with the new promotion when acquiring the Idoom Fibre Pack at 0 DA, from 15 Mbps and more, starting from this Thursday February 16…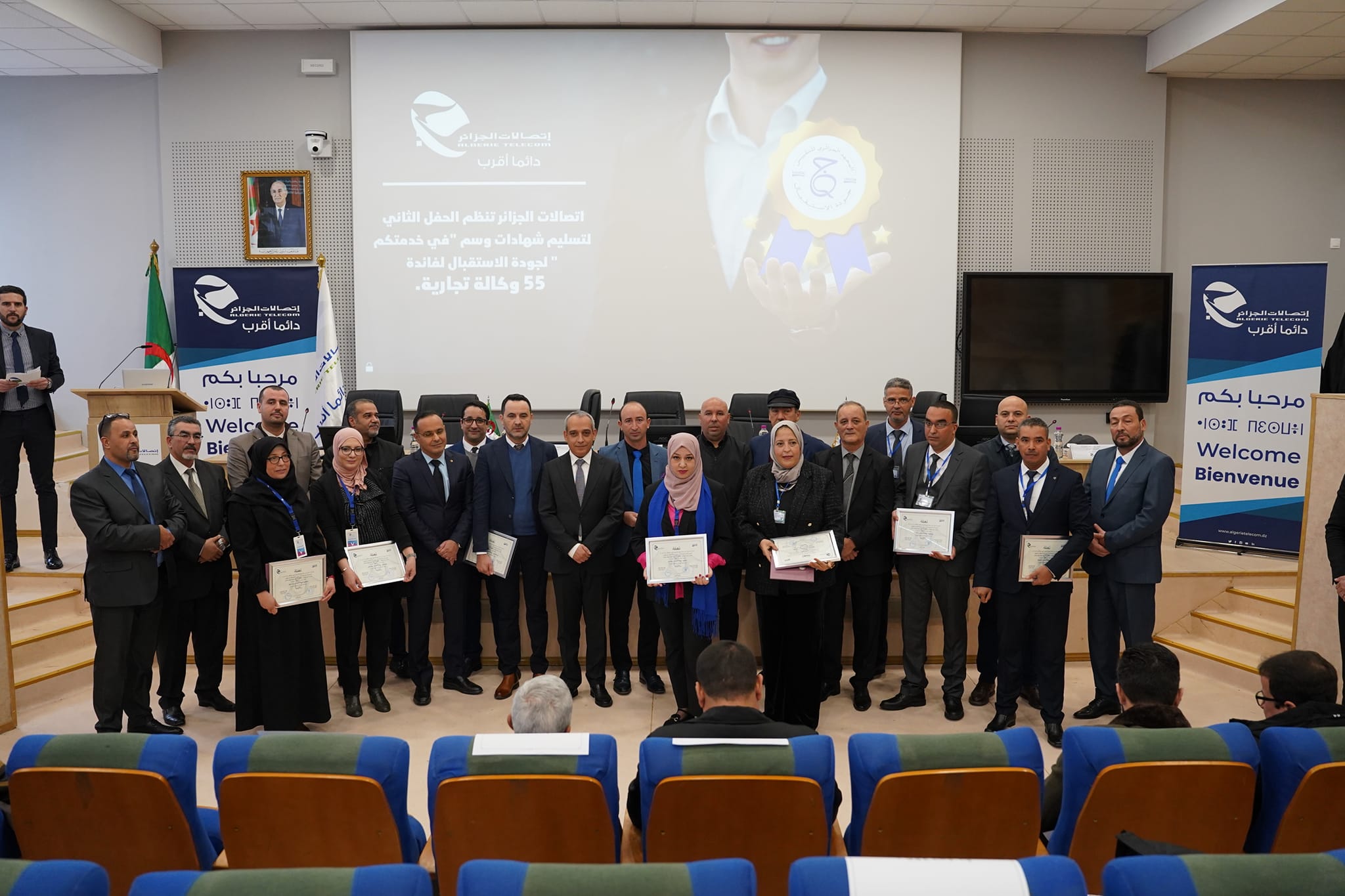 24/01/2023
25% of Algeria Telecom's commercial network certified "Fi Khidmatikoum" the Welcoming quality standards
Algeria Telecom hosted this Tuesday, January 24th 2023 the second ceremony to award the certification "Fi Khidmatikoum" for 55 stores, at our headquarter. Algeria Telecom became the first Algerian company to…
23/01/2023
"My Idoom" Algeria Telecom's new mobile application
To cope up with the development and digitalization strategy, Algeria Telecom releases its new mobile application "MY IDOOM", starting from this Sunday January 22nd 2023. This new service "MY IDOOM"…
08/01/2023
Algeria Telecom exclusive sponsor of « LinkedIn Local Algiers » : Move from the virtual to the real !
Algeria Telecom is glad to participate as the exclusive sponsor of « LinkedIn Local Algiers event », hosted by Amokrane Mariche (Branding consultant and instructor), in collaboration with IncubMe (start-up…